Kolekcija šarmantnog smještaja
Cool Stay Istria je turistički brend i osnovna mu je djelatnost pružanje usluga smještaja u vlastitim smještajnim objektima te ostalih turističkih usluga, na ovom jedinstvenom Istarskom poluotoku.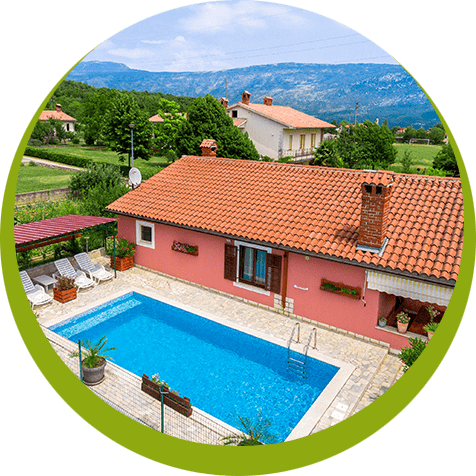 Kuća za odmor
Prekrasna kuća za odmor sa bazenom i vrtom omogućit će Vam nezaboravne trenutke odmora. Prepustite se ugođaju!!
€ 75,00

Cijena od

7

Osoba

65 m²

Površina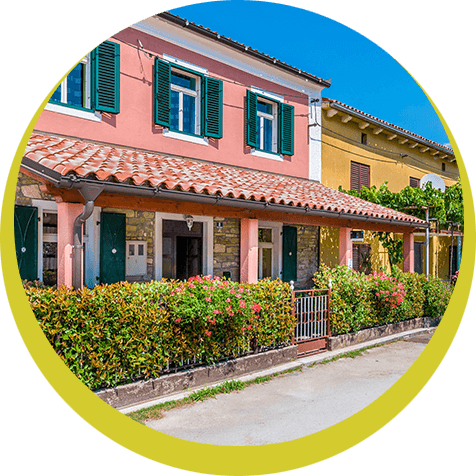 Kuća za odmor
Kamena kuća Comfort pravi je primjer idiličnog života na selu. Zidovi debljine i do 65 cm osigurat će svježinu u vrućim ljetnim danima te ugodnu toplinu doma u zimskim.
€ 65,00

Cijena od

6

Osoba

110 m²

Površina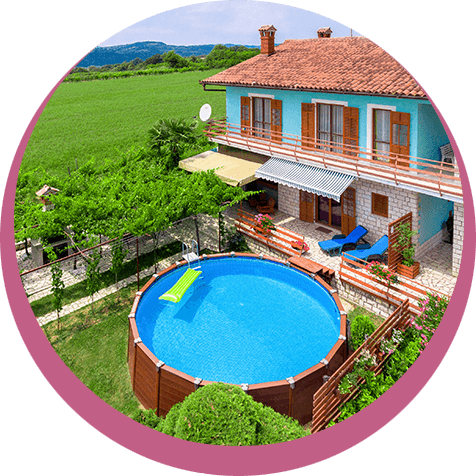 Apartman
Ovaj predivan i simpatično uređen apartman nalazi se u prizemlju obiteljske kuće sa prostranim parkom u kojem se nalazi i bazen.
€ 65

Cijena od

5

Osoba

90 m²

Površina
Bežični brzi internet

Vanjski bazen

Kućni ljubimci su dobrodošli
Pierre, France
August 2018
Nos avons séjourné 5 nuits dans l'appartement de Deni. Situé au coeur de Polje Cepic, il permet de se reposer à l'écart des centres urbains et de la côte tres bondée. L'appartement est vaste, bien équipé. Nous avons été accueilli par la femme de Demi qui a été ultra sympathique, nous accueillant même avec des crêpes maisons faites par sa belle-mère... Bref, ce fut parfait pour notre famille.
Stayed at COOL STAY ISTRIA – Comfort
Airbnb
Nina, Germany
August 2018
Deni, Klaudija and Deni's parents are wonderful people, a beautiful quiet and comfortable place where we would go every time again, we loved it so much.
Stayed at COOL STAY ISTRIA – Premium
Airbnb
Piia, Finland
July 2018
We had very lovely two weeks in Istria at Deni's house. Deni and Klaudija are both so nice people. And also Deni's parents. We got the warmest wellcoming when we arrived to the house. All the communication with Deni was very easy and we get answers quickly. The house was exactly like in pictures and was perfect for us, family with three kids who loved the pool. We loved the pool area with the barbeque fassilities. There was washingmachine, dryer and dishwasher at the house, which was excellent. There was also a garden and we were happy to pick up fresh salad, basilica, cucumber, tomatoes and zucchinis. The location was peaceful. The house is in the little village at the countryside so you need a car to get to the supermarkets, restaurants and beaches. There is a small grocery nearby but we mostly did our shopping in the supermarkets at Labin approximately 15-20 min drive away. In Labin there were also plenty of restaurants and healthcare possibilities if needed.
Stayed at COOL STAY ISTRIA – Premium
Airbnb
Mirna, Croatia
June 2018
We enjoyed our stay at Deni's place very much - the beautiful landscape, open view, star gazing by the pool. The house was spotlessly clean, equipped with everything we needed, and hosts were ready to help with anything we asked. Very positive experience :)
Stayed at COOL STAY ISTRIA – Premium
Airbnb
Hilde, Belgium
July 2016
Deni is a really nice person. We got lost at arrival and he even came to find us and drove together to the house. He also provided some bruschettas and some drinks, what a nice surprise after a long journey. Deni is also very flexible, we asked for an extra mattress and we even got an extra bed for the same price. The house is situated in a very quiet area with beautiful nature. The washing machine, dryer, dishwasher and airco makes this house complete. We enjoyed the swimming pool every day. We definitely recommend this house.
Stayed at COOL STAY ISTRIA – Premium
Airbnb
Baddis, Netherlands
July 2015
We had a very good time in Cepic. The house is very nice and we received a warm welcome from Deni and his family. The house offers all the modern appliances as well a great view. The swimming pool is ideal after a hot Istrian day. From there you can visit most parts of Istria.
Stayed at COOL STAY ISTRIA – Aurora
Airbnb
Uwe, Germany
July 2015
Wir wurden von Deni bzw. seinen Eltern herzlichst begrüßt und konnten selbst gemachten Wein, Schinken und Käse bestaunen und verköstigen. Bei Fragen wurde uns immer umgehend geholfen. Wir konnten uns auf Deutsch und Englisch verständigen. Das Haus war wie beschrieben und sauber. Durch die zentrale, ruhige Dorflage konnten wir Ladin und Rabat gut erreichen. Viele kleinere Strände wie Sv. Marina oder Ravni sind in einer halben Stunde erreichbar. Für Tagestrips bieten sich Pula oder Medulin an, jeweils eine Stunde entfernt. Ebenso lohnt sich der Besuch der Insel Cres. Wir haben uns sehr wohl gefühlt und der Gastgeber Deni ist sehr nett und hilfsbereit.
Stayed at COOL STAY ISTRIA – Comfort
Airbnb
Gdje se nalazimo
Kolekcija privatnog smještaja Cool Stay Istria nalazi se u malom selu Čepić koji je u sastavu Općine Kršan u Istarskoj županiji sa predivnim panoramskim pogledom na planinu Učka.
Ukoliko dolazite iz smjera zapadne ili srednje Europe prijeđete granični prijelaz Požane kod Buzeta, zatim nastavljate put preko Lupoglava u smijeru Tunel Učka. Oko 50 metara od tunela skrenite na cestu prema Labinu. Vozite oko 15 kilometara, do raskršća za Čepić, gdje skrećete desno te nastavite prema centru mjesta.